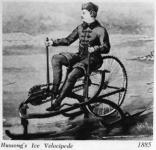 The editors of I Bike TO have been working on a subliminal scheme all winter long to get all of our readers to attend the Icycle 2009 Ice Bike Races. Our banner image at the top of the page is currently a crop of the starting line from a previous year's "rubber class" race, and earlier in the winter we featured a home-made studded tire.
But now we're being right up front about it: Come on out to Dufferin Grove Park this Saturday at 9:00pm for what promises to be the most fun and entertaining annual winter cycling event in Toronto. Seriously, don't miss this!
Some of Toronto's fastest street and track riders will be taking to the ice with their home-made studded tires. Aggressive racing, tight camaraderie among the racers, and a rambunctious audience make this one of the best cycling events you'll see. It's all topped off with a fantastic "rubber class" race that brings everyone onto the ice without their studded tires to share a laugh as we all fall down and slide into the boards.
Whether you're participating in the "real" races, or just wobbling around in the "rubber class", or just watching it all go by, I guarantee you'll have a good time. Just bring some warm clothes and a bit of coin for hot chocolate.
This year there will be an after-party held a few blocks away at Bike Pirates to keep the party rolling long in the the evening.
More details in our events listing.