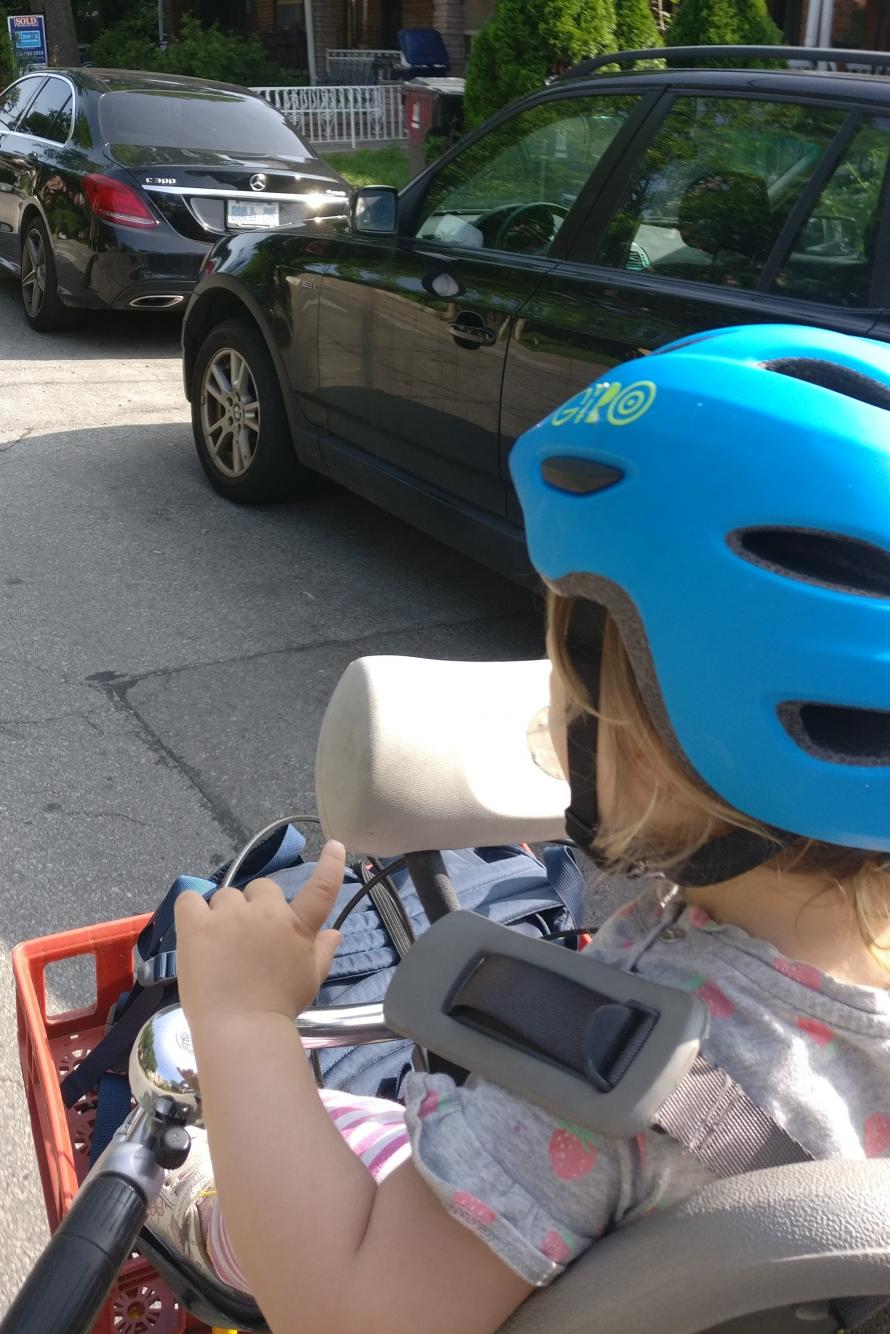 It's no earth-shattering news that biking with a baby or a kid turns regular, confident adults into super cautious and anxious parents. I become super aware of any movement and try to guess the intention of every driver before even they are aware of their next move. A slight movement to the right means they're thinking about turning right. A tilt of the wheels means they want get out of their parking space as quickly as possible. But this is exhausting, so for the most part I try to avoid busy streets as much as possible unless there is a dedicated and physically separated bike lane.
My daughter is 2 years old and we've been biking with her for over a year. She's content and happy to be riding in her front bike seat on our bikes (my wife and I both have one on the front). I get many wows and comments about the Yepp Mini bike seat (even though I think my bike is even more interesting). It's a bit of golden age for bike gear for children. It's much easier to find quality bike seats and bikes for children in North America, much of which is common in northern Europe where people have much more experience of carting kids around by bike.
The Yepp Mini puts the kid right in front of me, putting their head right near mine. This lets me hear a lot more of what she's saying and I can talk or sing to her without having to yell over car noises. The Mini easily mounts on the bike, in this case a Workcycles FR8. I love this bike. It's very sturdy, big comfortable tires, can carry a tonne, and can stand outside without getting rusty. It's also slow. It has a cool feature that allows it to comfortably fit a wide range of heights. In short, it's built like an SUV.
I've created a quiet route from home to daycare, avoiding the speeding cars on Queen Street West as much as possible. But we can't avoid Queen St entirely so for that section, without any sense of guilt, I ride on the sidewalk. I ride slowly and carefully and will give the right of way to anyone walking. People are quite accommodating when you've got a baby on board.
Once I arrive at the daycare, I use the double kickstand to prop up the bike safely. It is quite sturdy, but I'm thinking of getting an even wider one, which might require looking online.
The Fr8 has a built-in front rack that is attached to the frame rather than the handlebars and fork, which is typical for baskets. This means the bag for daycare stays stable and won't affect steering. They've thought of everything.
Local tourists
For last few months I've been with the toddler during the day for half the week and she's in daycare the other half. It's been wonderful. So long as there's been no ice, we've had the chance to explore many parts of our neighbourhood. For instance, we enjoyed taking the pedestrian/cycling bridge from Portland to CityPlace, stopping along the way to look at the trains.
We've enjoyed going further south to Queens Quay and bike along the new, completely separated bike path. Always get lots of looks at the bike and baby. My ego likes the attention and I think the toddler does too. It's quite sad that the City couldn't bother to provide a safe, comfortable link between the city and the water. Strachan sucks, Bathurst is worse. Simcoe has a semblance of a bike lane so is probably the best. But when I take the bridge at Portland, the easiest is to continue south taking Dan Leckie Way. For some reason the planners made this tiny road with minimal traffic into a wide, fast four lane road with turning lanes. It's sad and ironic, given that Dan Leckie was one of the first city councillors to champion bike lanes. According to Councillor Cressy, there are hopes to put bike lanes on this street, but it baffles me that the staff couldn't have just done it on this brand new road. It shows how much it's a fight against an internal culture with staff that ignores and devalues cycling, just as much as the more visible fights against knee-jerk politicians.
Regardless, riding along Queens Quay during a week day is great. No traffic, barely any bikes or pedestrians. Just us, the boats, ducks and perhaps another toddler/caregiver going by.