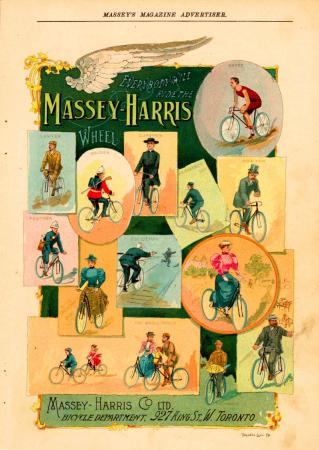 Massey-Harris (later known as Massey-Ferguson) once had a factory in the King West / Liberty Village district. They were best known for their farm implements and tractors, but also made bicycles as can be seen in this 1896 ad. They were riding the explosion of bicycles in North America and Europe. You can see an image of one of their large factories of the time. There were bike cops even back then. He must be quite skilled to fire that pistol while riding across a boardwalk!
See also this ad in an 1902 Opera bill:
Bicycling has taken another notion. From out of the east it started, and already it's in our midst. No fad now - just a sensible mode of exercise pleasant to take. It's a regular bank on saved car fares.

"Massey-Harris"

Bicycles are made right - look right - sell at the right price.