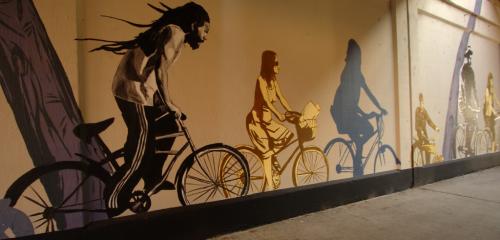 If you haven't been through the railway underpass next to the Dundas St. West and Dupont St. intersection in West Toronto recently, you have been missing out on some incredible changes! The streetscape has evolved tremendously in the past couple of months: The West Toronto Railpath linear park and trail is now open, there are bicycle lanes on Dupont St., and a brand new mural dedicated to bicycle culture has been painted along the entire 400 foot south wall.
[img_assist|nid=3500|title=|desc=|link=node|align=center|width=500|height=283]
Talk about a major transformation! Standing next to the railway bridges, you can see all these sights come together into a single place where a formerly desolate bike- and pedestrian-unfriendly area has been completely transformed. Just stand there and look at the bright colours, watch people walk by above you on the Railpath, watch cyclists stream by on the Dupont St. bike lanes, and listen to people as they talk about the new mural. Beautiful!
[img_assist|nid=3501|title=|desc=|link=node|align=center|width=500|height=170]
The mural, titled Strength in Numbers, was installed by a group of artists from Art Starts, an organization that helps build Toronto communities by using the arts. Funding for these murals came from the City of Toronto's Graffiti Transformation Investment Program, as well as the Toronto Arts Council and Ontario Arts Council. Lead artists Joshua Barndt and Jamie Bradbury, along with five youth artists painted the murals over four weeks in July and August 2009.
[img_assist|nid=3502|title=|desc=|link=node|align=right|width=300|height=450]
I interviewed lead artist Jamie Bradbury, who provided some insight about the mural:
Why did you choose to do a cycling-themed mural? Why this location?
The cycling theme was chosen as a starting point for the mural initially as we started the mural due to two main reasons. The west Toronto bike path being built above, we felt that biking as an issue was an umbrella for many other issues such as sustainability, eco-friendly cities, green space, alternative transportation. An artist and avid cyclist named Galen was also killed 5 years ago right at this location, and it was somewhat of an homage to him.
How many artists are involved in designing and painting the mural?
In total 7 artists were involved, Josh Barndt and myself Jamie Bradbury were the two lead artists / Facilitators on this job, and we hired 5 youth. Everyone worked together to hatch out a conceptual mockette that we used as a general guide.
It seems like there are several different styles and themes in these murals. What inspired them?
The various styles and themes are an amalgamation of all of the different artists' styles coming together. We had a Graffiti artist, an illustration student, I am more of a realist painter, Josh does realism and a variety of other styles, and some of the artists had limited experience.
[img_assist|nid=3503|title=|desc=|link=node|align=right|width=344|height=450]
What's your favourite part of the mural?
I think one of the most successful parts of the mural is the trains painted as line work that run throughout the mural. They are very simple but seem to take up a lot of space. Josh and Myself also spent quite a lot of time under the bridge creating the riders with movement and the tires which ground and make the eye rest.
What types of reactions have you been getting from passers-by while you were out painting?
Almost everybody that we encountered on the street absolutely loved the work. I think a lot of them were able to take pride in the painting and by default in the area where they live. We only had one negative incident with someone actually vandalizing the piece.
Have you been involved in other mural projects in the city, and do you have any others planned?
I have personally been involved in a few other projects in the city. One last year with Artstarts, the same organization that we were contracted through this year. I have also completed a welcome mat in Parkdale for the Parkdale B.I.A, during the doors open festival. It was a coat of Arms that represented Parkdale. I am currently about to begin a new mural project this month, and have a potential mural project in mid September booked.
When I step back and see the new Dupont St. bike lanes, the Railpath overhead, and this mural, it feels like suddenly this once ugly and hostile corner of my neighbourhood has become much more welcoming in just a few short months. How do you feel when you see all of this coming together?
I think that this project is something that people in the area can take pride in. Hopefully this area will become a bit of a success story. I think this is a typical example of how art can really effect an area, possibly help create change. We have had a lot of interest from local businesses who also want murals painted. It would amazing to see paintings all along the Railpath where possible. Make it a scenic journey.
Are you and the other artists cyclists or involved in any other forms of cycling advocacy?
I must admit, I am not an avid cyclist. I mainly rely on public transit. I must say though that this experience has really opened up my eyes to how important these bike lanes are. Since beginning this project I have had three friends seriously injured riding in the city. Whether it be being hit by a HUMMER, breaking their arm due to having a wheel get caught in the streetcar tracks, or being doored by a driver not paying attention when exiting their parked vehicle. Other major cities have bike lanes posted on the public transit web page. The TTC does not.
[img_assist|nid=3504|title=|desc=|link=node|align=center|width=500|height=381]
Now that the mural is complete, Art Starts has organized an opening celebration on Tuesday August 25th from 6pm – 8pm, on the West Toronto Railpath at the Dupont-Dundas intersection. "The event will feature musical performances and snacks. The artists will be on hand to answer questions and provide insights into the mural." More information about the mural and the opening celebration can be found in the attached press release.
More photos by Vic Gedris:
[img_assist|nid=3505|title=|desc=|link=node|align=center|width=500|height=295]
[img_assist|nid=3506|title=|desc=|link=node|align=center|width=500|height=255]
[img_assist|nid=3507|title=|desc=|link=node|align=center|width=500|height=357]
[img_assist|nid=3508|title=|desc=|link=node|align=center|width=500|height=333]
[img_assist|nid=3509|title=|desc=|link=node|align=center|width=500|height=333]
[img_assist|nid=3510|title=|desc=|link=node|align=center|width=500|height=301]
[img_assist|nid=3511|title=|desc=|link=node|align=center|width=500|height=333]
[img_assist|nid=3512|title=|desc=|link=node|align=center|width=500|height=350]
Some additional photos from Martin Reis.
Another version of this article was cross-posted to the Junction Triangle neighbourhood website.