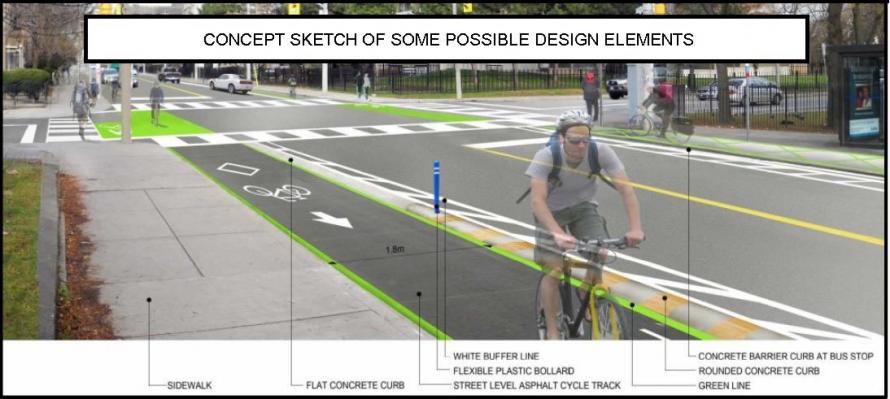 The first of two Public Meetings on bike lane upgrades to the Wellesley-Hoskin corridor is taking place on June 27th at 6pm at Our Lady of Lourdes Catholic School (444 Sherbourne St). If you are unable to attend you can send an email with your comments as well. The first phase of separated bicycle lanes on Wellesley/Hoskin/Harbord are to be built between Parliament and St. George Street.
Transportation Staff are now studying the Wellesley Street, and Hoskin Corridor to develop some possible designs for how these bicycle lanes can be improved. Staff have already done extensive research in the development of recommendations for improvements existing bicycle lanes for Sherbourne Street, and so some of the lessons learned from Sherbourne may be considered for the Wellesley-Hoskin Corridor.
Physically separated bike lanes connected in an overall network have been demonstrated to dramatically increase the number of cyclists using the facilities. Separated bike lanes on Wellesley, however, may be contentious to some people due to the likely removal of on-street parking for part of the corridor and removal of left-turn lanes. Thus all the more reason to show up even briefly to show your support for this key section of a separated bike lane network in Toronto. From the City's site:
Introducing a cycle-track type design to Wellesley St. - Hoskin Ave. will require more width than the existing painted bike lanes. In order to maintain the traffic flow and efficient TTC bus service along Sherbourne Street, the new design will result in the following changes:

Removal of all on-street parking on Wellesley Street between Bay St. and Parliament St.
Removal of existing left-turn lanes

As part of this process, city staff are conducting parking surveys to see if new parking spots can be added to streets near Wellesley St. and Hoskin Ave. to partially offset the loss of parking on these streets. The design will maintain vehicle access to all connecting driveways and laneways along Wellesley Street and Hoskin Ave.
In a city where there is such high demand for many of our narrow downtown roads, it's important to push to move on-street parking to side streets or parking garages. There are many alternatives to where someone can park their car, but no alternative for a safe cycling route through this part of town.