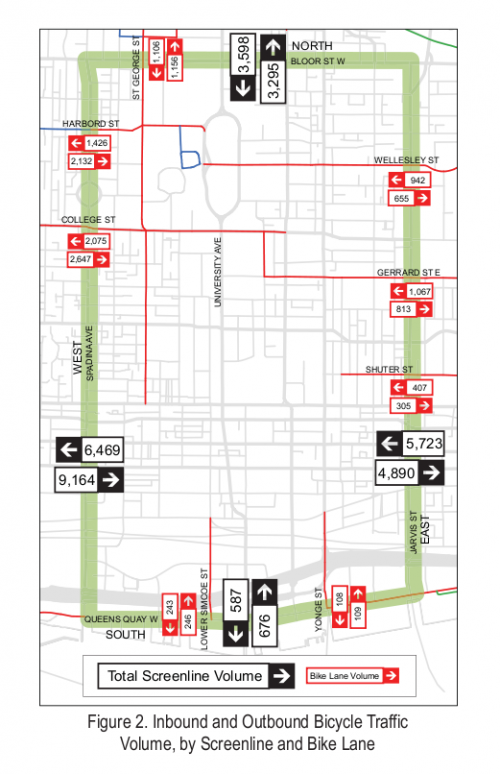 The City of Toronto has released their 2010 Bicycle Screenline Report (full report / summary), which is the result of their September 2010 "screenline" bicycle count. The screenline counts all the cyclists entering and leaving the downtown core (bounded by Spadina / Jarvis and Bloor / Queens Quay) in a 12 hour period from 7am to 7pm.
Since this is the first comprehensive count, it will be a baseline from which to measure if the city is meeting its objective of increasing bicycle trips. I was part of previous attempts of counts at various intersection counts throughout the city but the data was never released, presumably because they wanted to set up a more comprehensive collection method.
Some interesting results:
the western screenline at Spadina has 45% of all bike trips
62% were male (higher than I thought but still better than the 70% male typical for North America, where women are more likely put off by unfriendly streets)
54% wore a helmet
very, very few rode on the sidewalk - 5%, and even fewer where a bike lane was present
only 24% of the roads had bike lanes but they carried 45% of all cyclists (particularly women)
cyclists greatly prefer arterials: 67% of all the roads (crossing the screenline) are arterial, but carry 94% of bike traffic
the city set up an automatic counter as well on College, running day and night. It found that 78% of bike traffic took place between 7am and 7pm. If this ratio was applied to the total screenline count the bike trips in/out of downtown could be as high as 41 thousand!
Note to all you politicians who would rather ignore the evidence that cyclists commute to work, that they prefer arterial roads for their directness, that they aren't going anywhere, and instead pretend that they can help cyclists by only focusing on suburban trails (this may come off as unprofessional, but I think you deserve the respect you dish out): f**k you! Yes, and I'm going to single out Rocco Rossi and Rob Ford as the worst offenders. Come up with some real solutions to make conditions safer for cyclists on the routes they already travel on. We're doing the city a service by unclogging the roads of more cars. Stick that in your pipe.