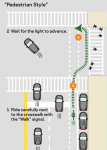 I came across this diagram from the well-produced NYC DOT bike guide. It describes how cyclists can perform a "left hook turn" or "indirect left". Cycling education in Canada (like here and here), however, encourages cyclists to make "vehicular-style" left turns, which means to make left turns like motorists do. If they are uncomfortable with such left turns they can make a turn like a pedestrian, a "pedestrian left turn", by walking their bike on the crosswalk. This is encouraged as well with the new bike boxes on Harbord Street, as pointed out by James points out.
Vehicular-style left turn diagram:
[img_assist|nid=4349|title=|desc=|link=node|align=center|width=500|height=698]
There is nothing wrong with promoting vehicular left turns, they can be fast and efficient. But it's not the whole story. There is one example (that I can find) in Toronto of an official encouragement of indirect left turns. [Update: Robyn pointed out that jnyzz found another one at the intersection of Dundas / Annette / Dupont) At Sherbourne and Bloor, westbound cyclists can see a sign to indicate how to turn left (see below). The cyclist is recommended to bike partway across the intersection on green, make a little hook turn, and wait in front of the stop line for the other lights to turn green. Or maybe they mean in front of the crosswalk. Somewhere. The point is, there is some very small official encouragement of a practice that is almost uniformly practiced by Toronto cyclists, and it is making some effort to get cyclists to do an indirect left turn more safely. We need more of this.
©Indirect Turn Sign at Sherbourne and Bloor
12 years ago ago by IBikeTO.
©Indirect Turn Waiting Area on Sherbourne and Bloor
12 years ago ago by IBikeTO.
The advantage of an indirect left is that it is the easiest way for an average cyclist to make a left turn on major roads (any road with traffic lights). I have only ever seen a handful of Toronto cyclists who will make a vehicular-style left turn from a major arterial road to another arterial road. If there is almost no traffic a few more will do it. The average cyclist is very uncomfortable with crossing multiple lanes of traffic (often with streetcar tracks) and then wait out in the middle of an intersection as cars zoom by them on either side. They have weighed the cost/benefit themselves and decided that the added time of an indirect left by waiting for traffic lights is worth it.
I've been biking in cities for over 10 years. I've learned and taught the officially approved theory and practice. I can do vehicular lefts on most streets, whether it is up at Sheppard and Leslie or at Spadina and College. But I am almost always alone in doing it, and it's not particularly fun or comfortable. I find myself more and more just defaulting to indirect left turns. If I'm not comfortable doing it, just imagine how a grandmother on a bicycle with her grandkid feels about making left turns.
There is nothing special about Sherbourne and Bloor compared to any other major intersection in the core. It just happens to have a sign explicitly accepting what most cyclists are doing anyway. Why not just try to do it more safely by following the NYC diagram above?
In the Netherlands (and similar countries) they go one step further by providing indications and room for cyclists to make left turns at most major intersections:

©Left hook turn in Amsterdam
12 years ago ago by IBikeTO.
And see a video of how the Dutch have made indirect lefts easier with a protected bike lane.